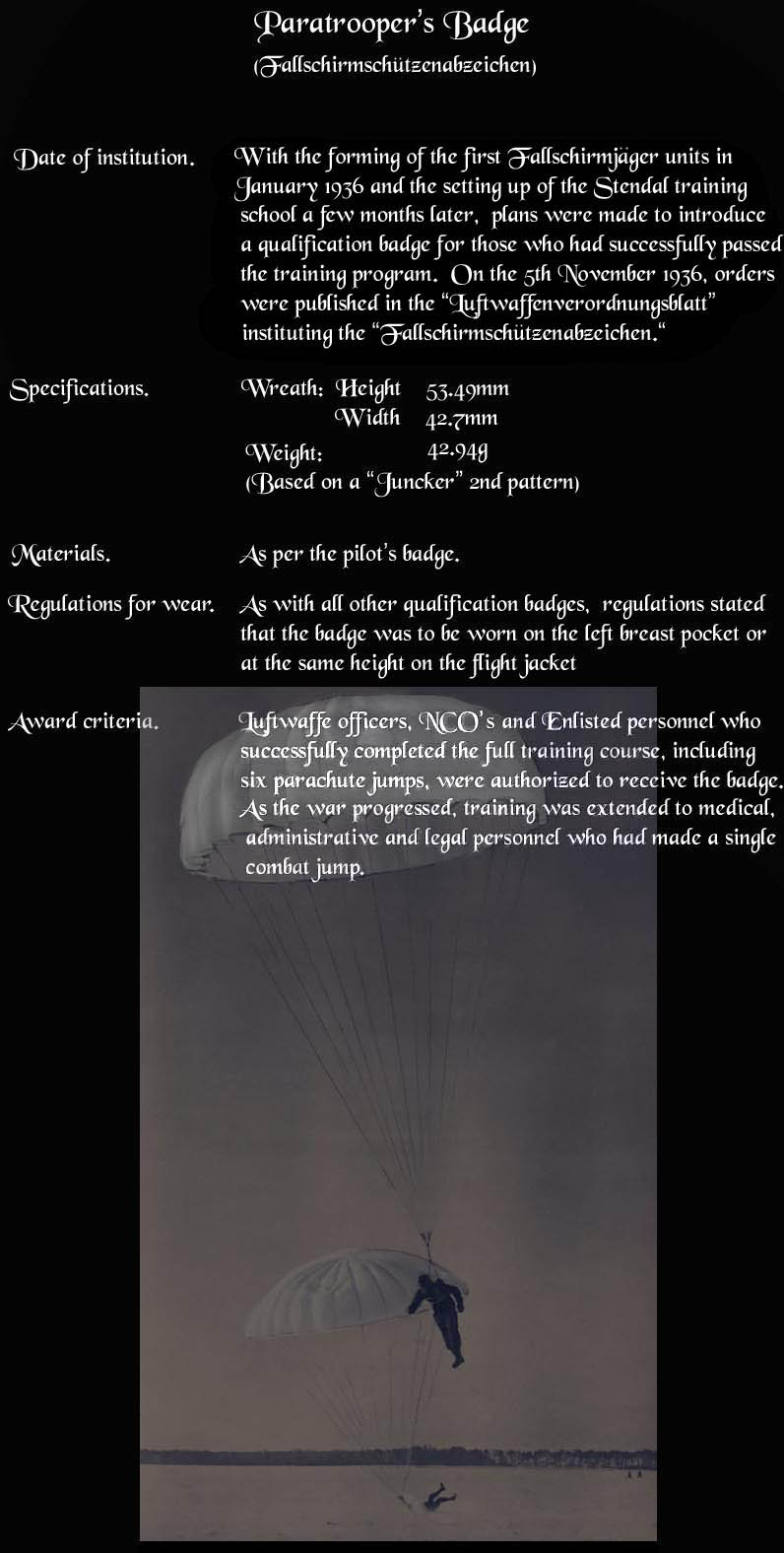 The vast majority of "Text book" Luftwaffe qualification badges encountered were produced from 1939 onwards. Between 1935-39, firms such as Juncker and Assmann were producing badges for the early, non-combatant, Luftwaffe (With the exception of units operating in Spain). These early badges were made of nickel silver, aluminium and tombak, however the construction of these types were not too robust and were never intended to see the amount of wear that they ultimately saw, hence the need for a complete redesign and the emergence of the heavier badges of the war period.
It has only been recently that examples of these very early badges have come to light, the Juncker 1st pattern being a prime example.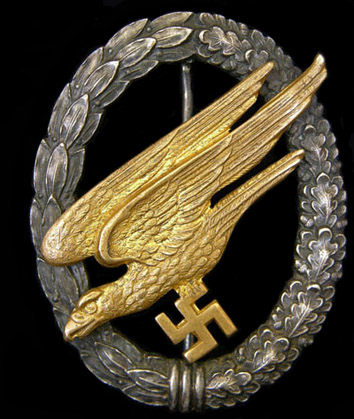 1st pattern by C.E Juncker.
It has always been thought that Assmann only produced one 1st pattern series between 1936-39, this being the series that appears in their 1938 catalogue.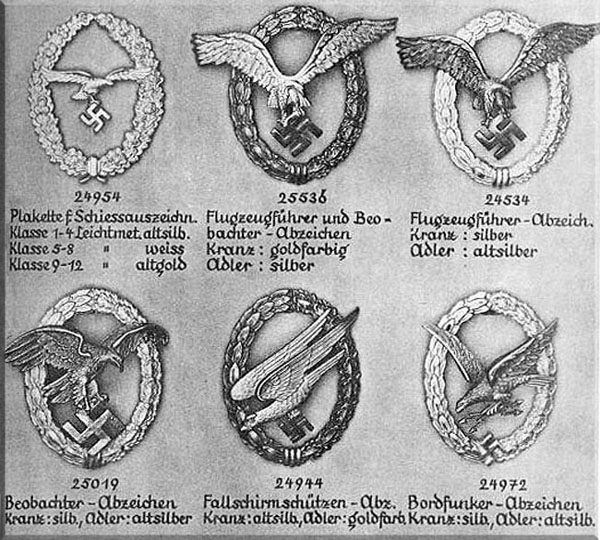 Luftwaffe badges shown in the "Assmann" 1938 catalogue.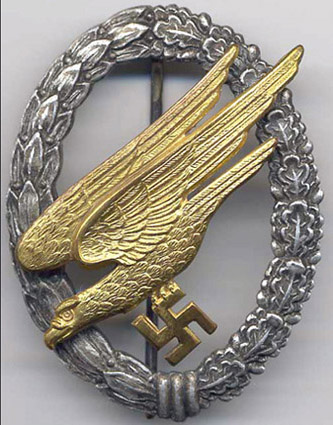 Example as shown in the 1938 "Assmann" catalogue
(Steve K collection)
There is, however, now proof that "Assmann" produced an even earlier badge than those that appear in the '38 catalogue.
Perhaps we should categorize this as a variant or trial version of their badge production as the eagle is the same (although slightly thinner) as those produced throughout the period from institution to war's end. However, with the wreath being completely different (as will be seen, the wreath is extremely more detailed than its 1938 counterpart) I would categorize these examples as being the true 1st pattern produced by "Assmann". Known in the collecting community as the "egg-shaped" wreath, to date, it has been found on Paratrooper, Pilot and combined Pilot/Observer badges.
Here is an example of the early 1936 1st pattern, "egg-shaped" wreathed Fallschirmschützenabzeichen produced by the firm F.W Assmann and issued to members of the newly formed Fallschirmjäger Regiment on the 5 th November 1936.
The name, "Obgefr Wagner" and his unit, "Luftnachrichten.Kompanie.7 Stendal" ** can be found scratched on the reverse of the wreath.
Being a member of a divisional unit and recipient of such an early badge, I think it can be safe to say that "Wagner" was one of the early members of "Regiment General Göring" to complete his training at the Stendal Jump School.
** (Wagner's Company will be found under 'Divisional units'.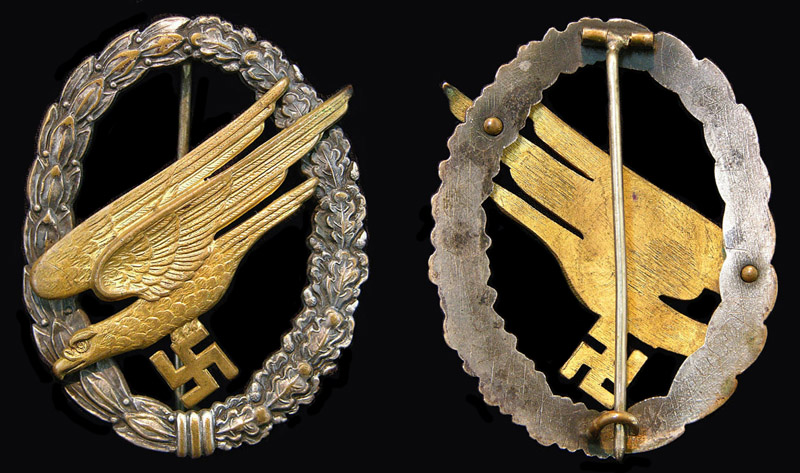 1936 1st Pattern Fallschirmschützenabzeichen
by
F.W Assmann & Söhn, Lüdenscheid
A little background on "Flieger Division.7"
On 29th October 1935, Reichsminister, Hermann Göring officially ordered (L.A.Nr.5450/35.g.Kdos L.A.II.2A) the renaming of the "Landespoliziegruppe-Berlin" (A unit formed by Göring some two years earlier to combat communist activities.) The new name for this unit was "Regiment General Göring."
In March 1936 the first jump school was opened at Stendal-Borstel airport and on the 4th May the first the training course for these new volunteer paratroopers began with an intake of members from the 1./Batl.Rgt Göring, commanded by Major Bruno Bräuer.
During this course, on the 11th May 1936, Major Bräuer became the first member of the Fallschirmjäger to make a parachute jump and also the first to receive a parachuting licence. (Fallschirmschützenschein)
As training continued at "Stendal" a new division was formed (July/Aug 1938), this being the "Flieger Division.7" under the command of Generalmajor Kurt Student.
By 1939 (Pre-war), and after the use of the "Flieger Division.7" in the occupation of the Sudetenland in October 1938, divisional units were as follows:
"
Stab.7.Fl.Div - Berlin-Templehof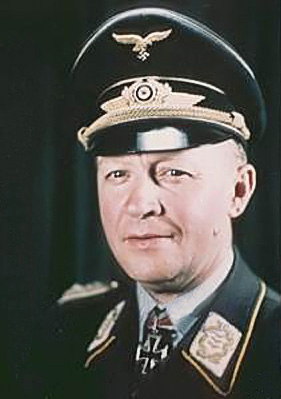 Kommandeur - Generalmajor Kurt Student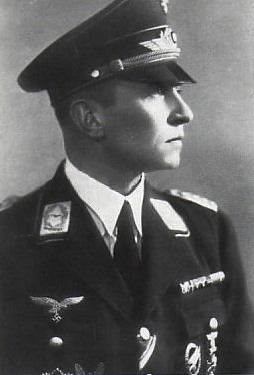 Chief of Staff - Oberstleutnant Gerhard Bassenge

General Staff Officers.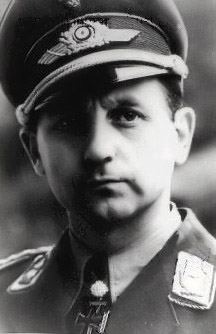 Major Heinrich "Heinz" Trettner (1a)
Hauptmann Walther and Hauptmann Osterrath (1b)
Oberleutnant Lampertsdörfer (1c)

Divisional Units.
Geschütz Batterie.7 - Kdr. Oberleutnant Schram - Gardelegen
Luftnachrichten.Kompanie.7 - Kdr. Oberleutnant Schleicher - Stendal **
Sanitätszug – Kdr. Dr.Neumann - Gardelegen
Panzer.Abwehr.Kompanie.7 - Kdr. Hauptmann Götzel - Gardelegen
Transport Kompanie.7 - Kdr. Hauptmann Rohloff - Gardelegen
LS Kommando - Kdr. Oberleutnant Kieß - Burg/Magdeburg
Aufklärungs Staffel - Kdr. Oberleutnant Langguth - Stendal
Kampfgruppe ZBV.1(JU52) - Kdr. Oberstleutnant Morzig - Burg
Kampfgruppe ZBV.2(JU52) - Kdr. Oberstleutnant Drewes - Stendal
Fallschirmjäger Regiment.1 - Kdr. Oberstleutnant Bräuer
1./Batl - Kdr. Hauptmann Walther - Stendal
2./Batl - Kdr. Hauptmann Prager - Braunschweig
3./Batl - Kdr. Oberstleutnant Sydow, Hauptmann Schulz - Gardelegen
14.Kompanie.Pz.Jäger- Kdr.- Kdr. Oberleutnant Reitzenstein
Fallschirmjäger Regiment.2 - Kdr. Major Heidrich, Stab
1./Batl - Kdr. Hauptmann Noster - Gardelegen
2./Batl - Kdr. Hauptmann Pietzonka - Tangermünde
3./Batl - Kdr. Hauptmann Burckhardt - Tangermünde
Fj.Erganz.Batl - Kdr. Hauptmann von Kummer - Stendal
Fallschirmschule.1 - Kdr. Major Reinberger - Stendal
Fallschirmschule.2 - Kdr. Major von Grazy - Wittstock

Jäger Johann Heitkamp
4th Company/Regiment General Göring
(Eric S Collection)
These early badges are exceedingly rare, to find examples that can be traced to the recipient, even rarer.
To finish this look at these early badges, I'm pleased to be able to show another example of the Juncker 1st pattern, only made possible through the generosity of my dear friend, Eric.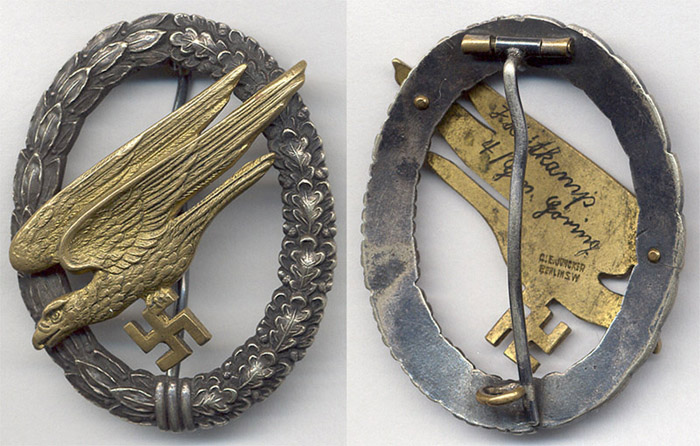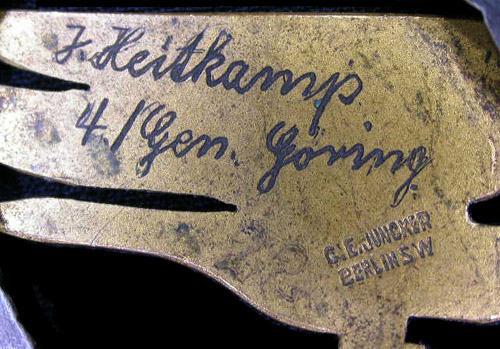 (Eric S Collection)
This particular badge was issued to 'Jäger Johann Heitkamp' of the "Regiment General Göring" on the 14th December 1936 on the completion of training at the Stendal jump school.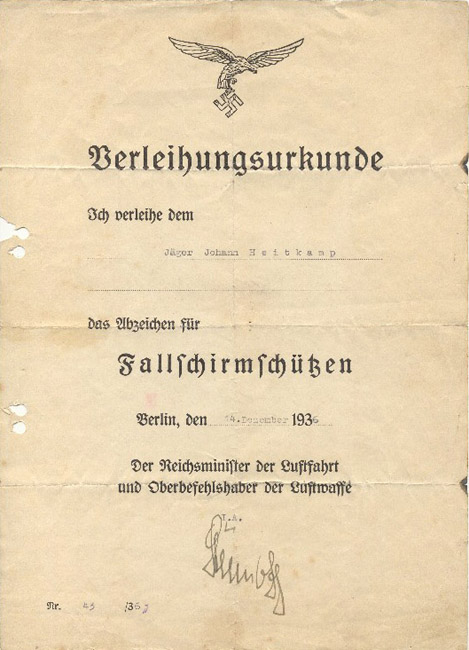 Citation (Urkunde) for Jäger Heitkamp's Paratrooper's Badge
(Eric S Collection)
Awards received;
Commemorative Medal of the 13th March 1938 - issued 22nd May 1939
Commemorative Medal of the 1st October 1938/with Bar- issued 20th June 1939
Iron Cross 2nd Class - issued 25th May 1940
Wound Badge in Black - issued 2nd September 1940
Wound Badge in Silver - 1ssued 6th October 1941

Cuff Titles
Worn by members of the "Flieger Division.7"

Officer's version

NCO's version

One of the many versions for enlisted men

Cuff title of the Flieger Division.7

Fallschirmjäger Regiment.1

"9 leaf"

"7 leaf"
"Kreta"-Awarded to those who were involved in operations
on the Island of Crete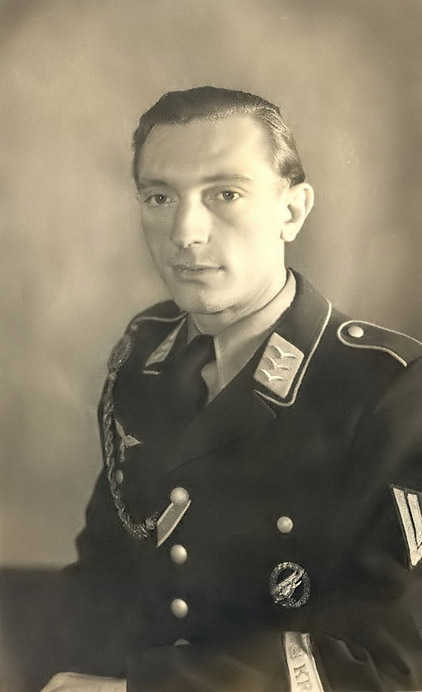 Kreta cuff title in wear