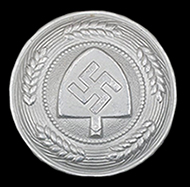 Reich Labour Service
Reichsarbeitsdienst (RAD - RADwJ)
The Reichsarbeitsdienst (translated to Reich Labour Service, abbreviated RAD) was a major organisation established by Nazi Germany as an agency to help mitigate the effects of mass unemployment on German economy, militarise the workforce and indoctrinate it with Nazi ideology.
From June 1935 onwards, men aged between 18 and 24 had to serve six months before their military service. During World War II compulsory service also included young women and the RAD developed to an auxiliary formation which provided support for the Wehrmacht armed forces.
During the early war Norwegian and Western campaigns, hundreds of RAD units were engaged in supplying frontline troops with food and ammunition, repairing damaged roads and constructing and repairing airstrips. Throughout the course of the war, the RAD were involved in many projects. The RAD units constructed coastal fortifications (many RAD men worked on the Atlantic Wall), laid minefields, manned fortifications, and even helped guard vital locations and prisoners.
The role of the RAD was not limited to combat support functions. Hundreds of RAD units received training as anti-aircraft units and were deployed as RAD Flak Batteries. Several RAD units were also sent into combat on the eastern front as infantry.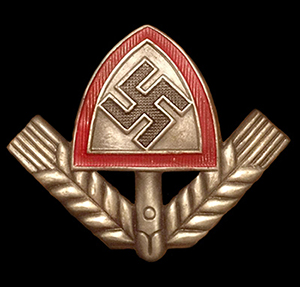 Cap Badge of the Reichsarbeitsdienst (RAD - RADwJ)
Service Awards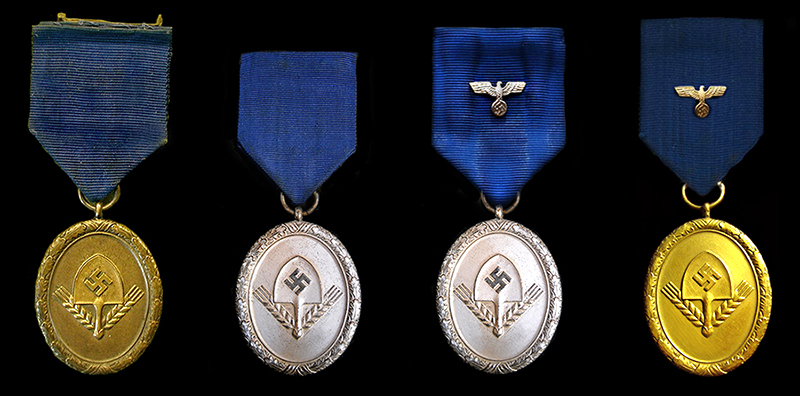 Reichsarbeitsdienst (R A D) long service medals - males
Left to right: 4th class-4 years service, 3rd class-12 years service, 2nd class-18 years service, 1st class-25 years service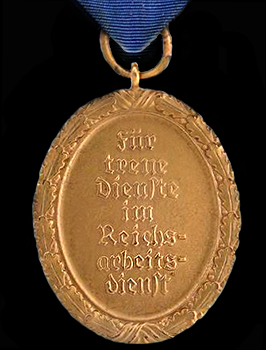 The reverse of all RAD long service medals are identical, bearing the inscription "Für treue Dienste im Reichsarbeitsdienst (For loyal service in the National Labour Service)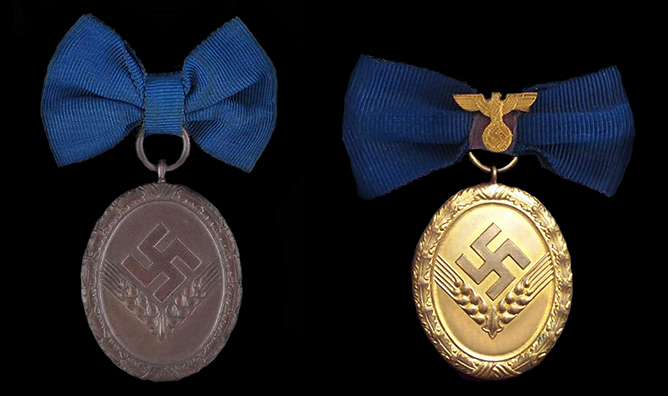 RAD 4th class-4 years service (left), 1st class-25 years service (right) - female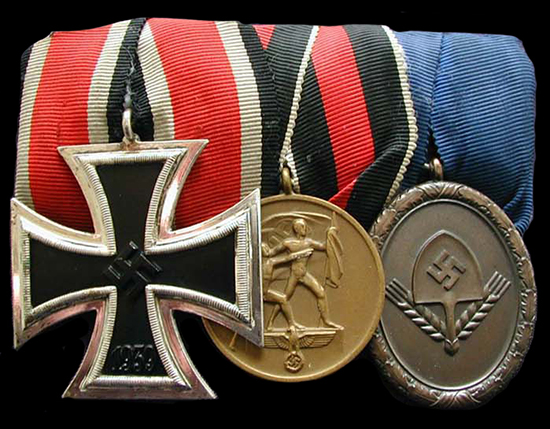 Parade bar: Iron Cross 2nd Class -1st October 1938 - Sudetenland Commemorative Medal - 4 year RAD service medal
Rank Brooches
Deutscher Frauenarbeitsdienst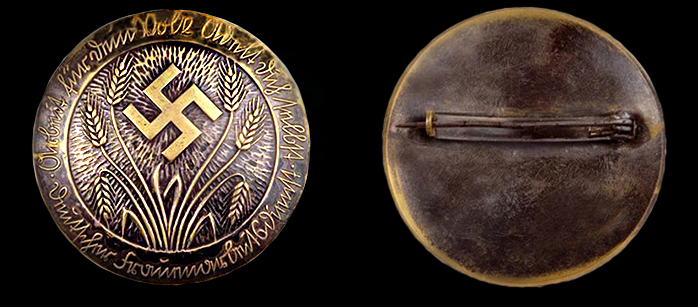 1st pattern rank brooch in bronze - Arbeitsmaid, Deutscher Frauenarbeitsdienst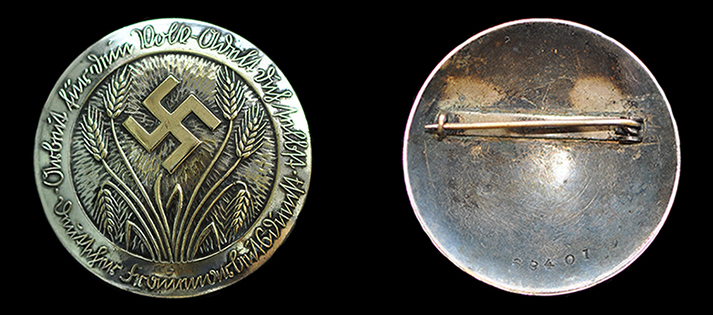 1st pattern rank brooch in silver - Maidenführin, Deutscher Frauenarbeitsdienst
(The brooch for the rank of Lagerführin was in gold)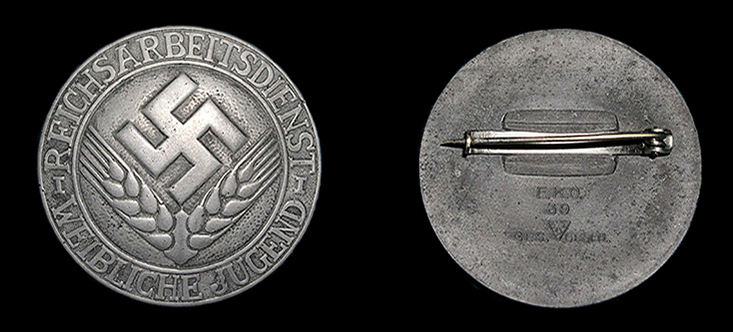 2nd pattern rank brooch - Maidenführin, Deutscher Frauenarbeitsdienst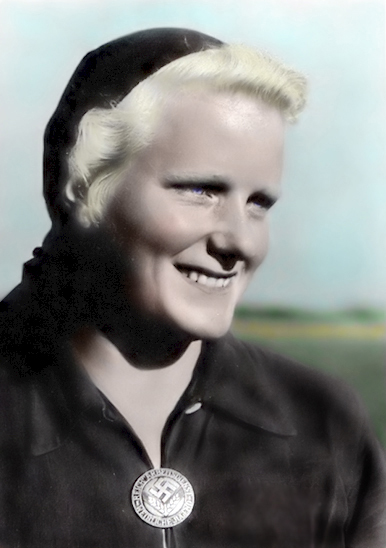 2nd pattern rank brooch - Maidenführin in wear
RADwJ

Smooth Border Rank Brooch
Left to right: "Old"Silver - Arbeitsmaid (1939-1942), Iron - Arbeitsmaid (1942-1945), Bronze - Jungführerin
(The brooch for the rank of Stabsführerin was in gold)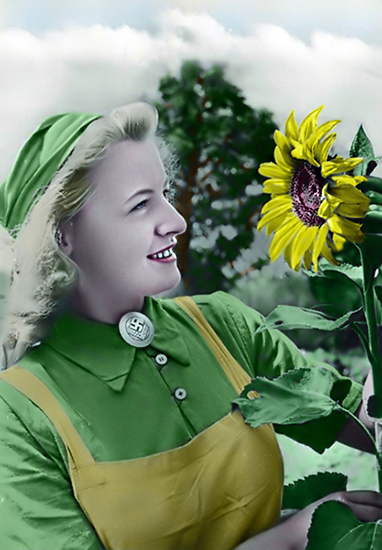 Arbeitsmaid rank brooch in wear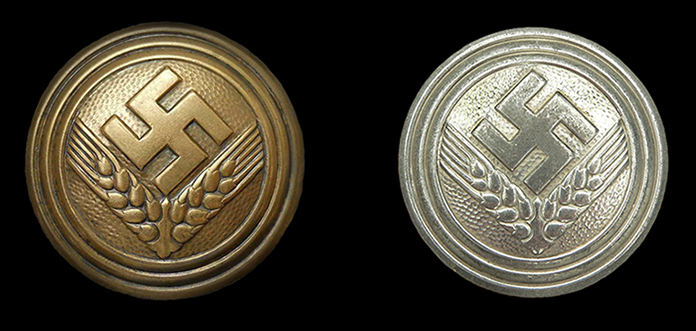 Ribbed Border Rank Brooch
Ranks: Iron - Kameradschaftsälteste, Bronze - Maidenunterführerin, Silver - Maidenoberführerin, Gold - Stabsoberführerin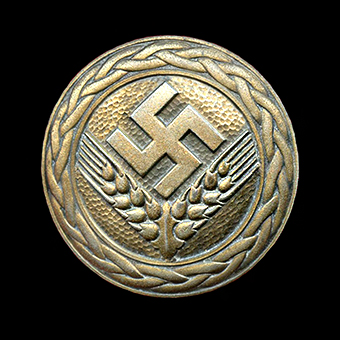 Intertwined rope patterned Border Rank Brooch
Ranks: Bronze - Maidenführerin, Silver - Maidenhauptführerin, Gold - Stabshauptführerin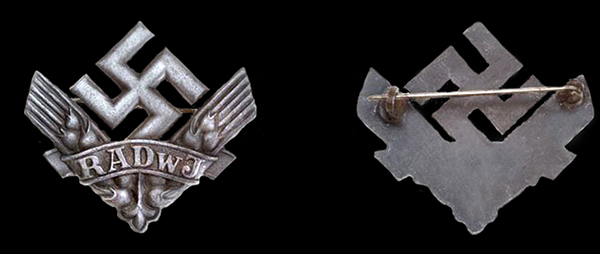 War Helper's Brooch
For having completed the six months obligatory RADwJ service, and a further six months service in in support of the war effort

Commemorative brooch in silver for retired members- RADwJ
(The Commemorative brooch was in bronze, silver or gold, reflecting the the rank of the wearer)