Naval Combat Clasp
(Marine-Frontspange)
The Naval Combat Clasp (Marine-Frontspange) was instituted on the 15th May 1944 on the order of the Commander of the Kriegsmarine (Oberbefehlshaber der Kriegsmarine), Karl Dönitz.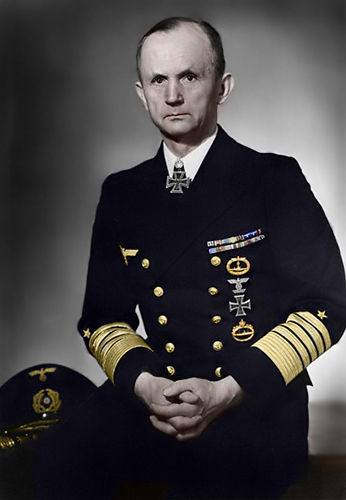 Oberbefehlshaber der Kriegsmarine, Karl Dönitz
The award was for presentation to Kriegsmarine personnel for meritorious actions which were not covered by existing decorations.
Award Criteria
It was necessary to perform actions five times in excess of the requirements for a basic war badge.
As with a number of awards instituted in the closing months of the war, the Combat Clasp was not made in large production numbers, but the photograph in Dr. Klietmann's book does suggest that a number of completed clasps did exist

The official design of the Marine Combat Clasp
The original design for the clasp is very similar to the onboard produced example shown below, with the exception of a Kriegsmarine eagle and swastika that surmounted the anchor on the official design, leading researchers to speculate that the onboard made examples, without any Nazi regime motitif, were most likely produced, as with late war awards such as the Lappland Shield, after the cessation of hostilities.
What is certain is that clasps were made for recipients locally from any materials that came to hand, mainly copper and brass.

Shipboard produced Naval Combat Clasp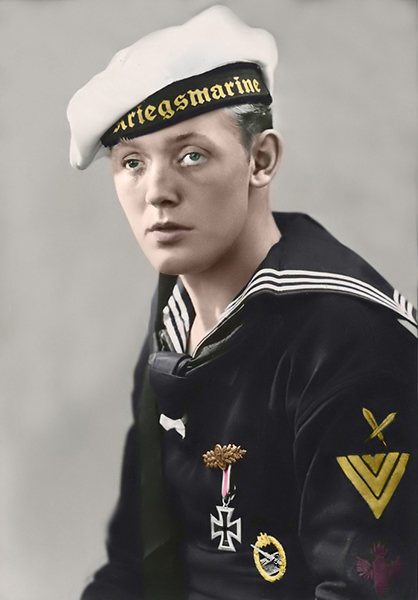 Naval Combat Clasp in wear